Family Time
The best memories are made spending time with your loved ones, especially in the White Mountains.
Family Time is the Best Time!
As with everything here at RiverWalk, we believe in making the most of the time we have. For centuries, the White Mountains have been attracting families for outdoor fun. Surrounded by the iconic White Mountains, you'll never hear the kids say, "I'm bored." From family-friendly hiking, waterparks and mini golf, to world class attractions, and, of course, the on-site amenities, you'll need to extend your vacation to do it all.
At the Resort
If you've come to the mountains to escape from the concrete jungle, you've come to the right place. As one of the only luxury resorts in the Lincoln area, you could spend your whole vacation at the RiverWalk Resort and not get bored. With two huge swimming pools and hot tubs for the whole family, an arcade room with all the games you'd find at an amusement park, and a state-of-the-art fitness room, there's plenty to do to keep the whole family busy from sunrise to sunset.
Relax in Solstice North Day Spa with a full-body massage or enjoy a fun pizza night with the whole family at La Vista Italian Restaurant. Put the kids to bed early and sip on a refreshing glass of wine at Seven Birches. At night, enjoy some s'mores next to the bonfires on the back lawns under the starry skies.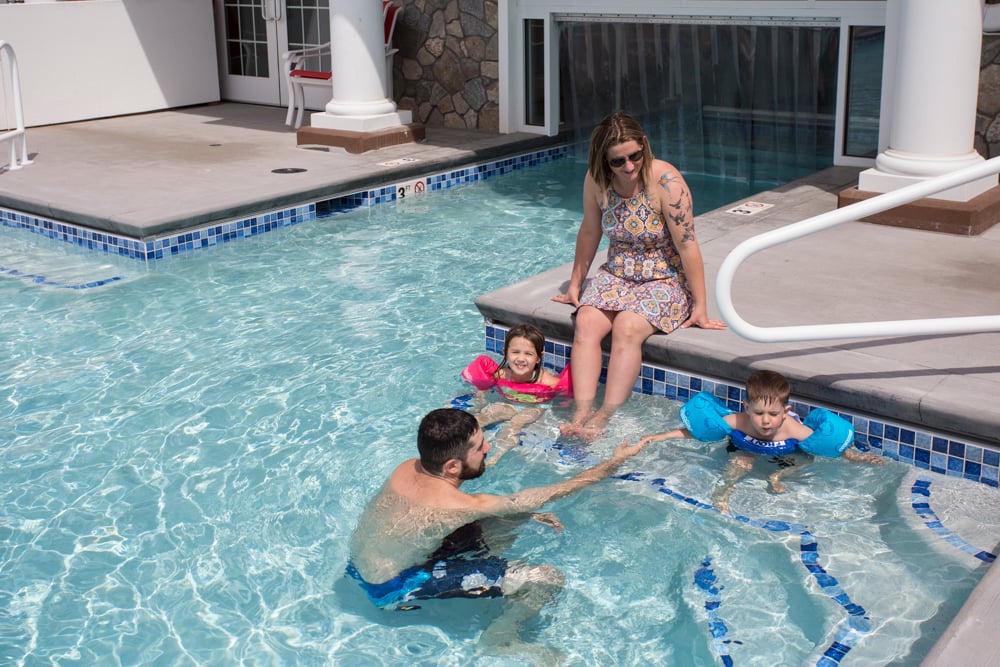 Outdoors
Family-friendly outdoor activities are abundant in the White Mountains. Lace up your hiking boots and hit the trails. With 48 4,000+ foot mountain peaks and numerous other smaller peaks, there's a new hike for every day of the year. For the smaller kiddos, there are plenty of short, easy hikes within a short drive from the RiverWalk Resort.
The Lincoln area is home to several family-friendly, warm-weather attractions that will leave the whole family with smiles. Whale's Tale Waterpark is always a splashing good time on those hot summer days. Train enthusiasts of all ages will love a ride on the Hobo Railroad along the Pemi River. Don't miss Clark's Trading Post for the rides and the infamous Black Bear show.
As the temperature drops, the White Mountains transform into a true Winter Wonderland. RiverWalk is surrounded by world class Ski Resorts, hundreds of miles of Snowmobile Trails, Magical Ice Castles and enough unique adventures to make you forget about t-shirt weather and flip-flops for a few months.
Indoors
Unfortunately, we can't control Mother Nature. Don't let a little rain or snow keep you from having fun on your vacation. BarnZ Cinema is just a short walk across the RiverWalk Resort parking lot where you can catch the latest Hollywood blockbusters. When you want to get a taste of Broadway right here in the mountains, don't miss a show at the award-winning North Country Center for the Arts at Jean's Playhouse. Test your family's art skills at Fired on the Mountain where you can paint your own pottery or one of the many art classes they offer for all ages. For high energy kiddos, spend the afternoon at North Country Climbing Center in Lisbon. Let your kids be monkeys and climb to new heights on 6,000 feet of indoor rock climbing walls. If you're not a gym rat, Live a Little Fitness offers an abundance of fun yoga and fitness classes for both adults and kids. Located just down the street from the RiverWalk Resort