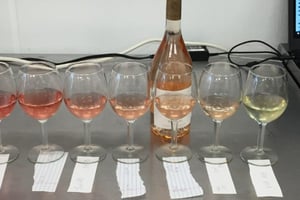 Blend together your favorite wines from the Seven Birches wine list and make your own blend into a take home bottle. Tickets are $30 and include a 750ml bottle of your sensational blend, the customized labeling of your bottle, tools, tips, and a little guidance to get you rolling. Reservations are highly recommended.
---
SATURDAY, JUNE 8th: Wine Riddler
Read between the wines on Saturday June 8th at the Seven Birches Winery Atrium tasting room. Solve puzzles, earn special deals and prizes, and explore some of our locally made wines during our Wine Riddler night from 5-9pm!
---
SATURDAY, JUNE 15TH: Dad's Night Out
This Father's Day, we're giving the Dads a break at Seven Birches Atrium Tasting Room. It's been too long since all of the dads could enjoy adult beverages, conversation, and night life without having to stress over the details. So for only $15 per person, we will provide all of the aforementioned as well as two glasses of our handcrafted wine!
---
SATURDAY, October 26th: White Mountains Crush Festival
Mark the date in your calendars for the 4th Annual White Mountains Crush Festival. More details to come.
---