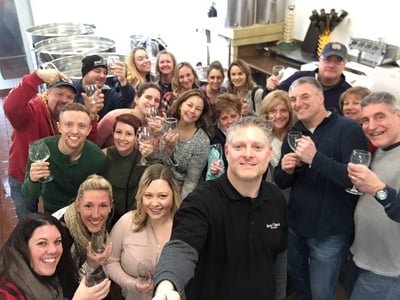 The weekend of April 13th – 15th, we are taking some time out to celebrate the release of our spring wines as part of our Seven Birches Wine Club. This exclusive event is open to all of Seven Birches wine club members, barrel club members, RiverWalk owners, and of course, their friends and family. We appreciate the support you have given us over the past year and we want to bring you all together for a weekend of luxury, wine, food, and fun! Basically, we've created an excuse to have you come join us for a weekend in an otherwise slow time of year to drink wine with us and to have a few laughs…. to be honest.
---
May 12: Plunge for the park at riverwalk!
Before the heat kicks in this summer, take a teeth-chattering plunge into RiverWalk's 168,000-gallon lagoon pool to benefit the Lin-Wood Skate Park. It's a feel-good event that is sure to take your breath away. But don't worry, you'll get it back at the post-plunge warm-up party.
The Plunge
If you've ever wondered what it's like to jump into 168,000 gallons of ice coldwater – the wait is over. This cold opening of the RiverWalk's pool will benefit the Lin-Wood Skate Park and how you get in is all up to you – wade, belly flop, cannonball – it's your choice. Come on in, the water's fine.
Dive for Dollars
During the plunge, those extra cold souls can dive deep and win prizes scattered on the bottom of the pool.
Post-Plunge Warm Up Party
Plungers are encouraged to chill out and warm up in the heated outdoor pool and hot tub at the RiverWalk. Hot chocolate, coffee, and donuts will be served and the fire pits will be roaring.
$30 Donation
Includes a free Plunge towel, Lin-Wood Skate Park BUILD patch, use of the outdoor heated pool at the RiverWalk for the remainder of the day, plus hot chocolate, donuts, and coffee at the post-plunge party.
All proceeds benefit the Lin-Wood Skate Park. Open to all ages.
Saturday, May 12
10:30am: Check-In

11:00am: Plunge & Dive for Dollars

11:30am: Post-Plunge Warm Up Party
Plungers under 18 years of age are required to have a guardian or parent present at the event.
Spectators
If you're not cold-blooded, you're welcome to come and support the Lin-Wood Skate Park and cheer on your freezing-cold friends & family.