Outdoor Winter Activities
Every winter, the Western White Mountains and RiverWalk Resort at Loon Mountain transform its fall colors into a white winter wonderland.
Winter in New England, there's no better place to be!
The White Mountains are an adventure destination year-round. During the winter months, the mountains and villages come alive with skiers and snowboarders and others looking for the ultimate winter thrill. The area has an abundance of adventurous activities for the whole family that will get anyone's adrenaline pumping. Let RiverWalk be your outdoor adventure home base!
Looking for Summer Adventures?
Skiing & Snowboarding
You're in the heart of ski and snowboard country at the RiverWalk Resort in Lincoln, NH. Our shuttle will take you to and from Loon Mountain, where you can enjoy some of the best slopes in the White Mountains. Covering three mountain peaks, Loon Mountain offers 370 skiable acres. Standing at 2,100 feet, Loon is both beginner and expert skier friendly and is a true family mountain.
Standing at 4,080 feet, nearby Cannon Mountain is New Hampshire's highest ski mountain with a vertical drop of 2,180 feet. . With 285 skiable acres across Cannon and Mitterskill, Cannon Mountain is a local favorite. Take a ride on the historic Tram and enjoy one of the many groomed trails or treelined glades.
If you need even more variety - Bretton Woods, Waterville Valley, Cranmore, Attitash, and Wildcat Mountain are all within reach, so you'll never get bored of the ski trails in the White Mountains!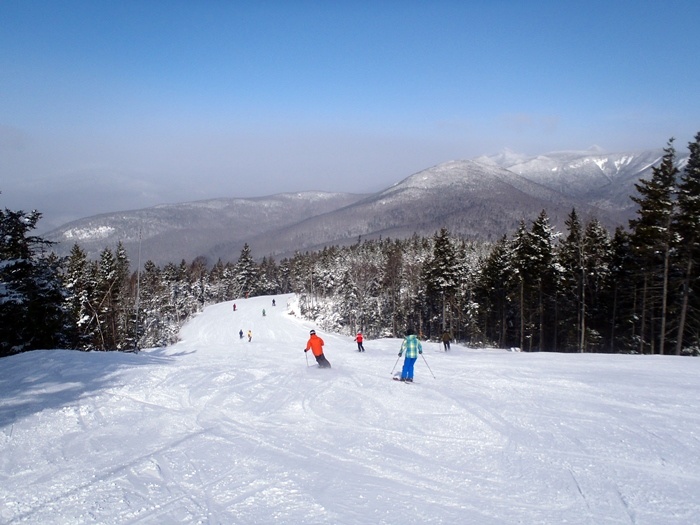 Snow tubing is a popular winter activity that will surely bring a smile to any kid or kid-at-heart. The Loon Mountain Adventure Center has a dedicated snow tubing hill under the Little Sister chairlift that is open daily.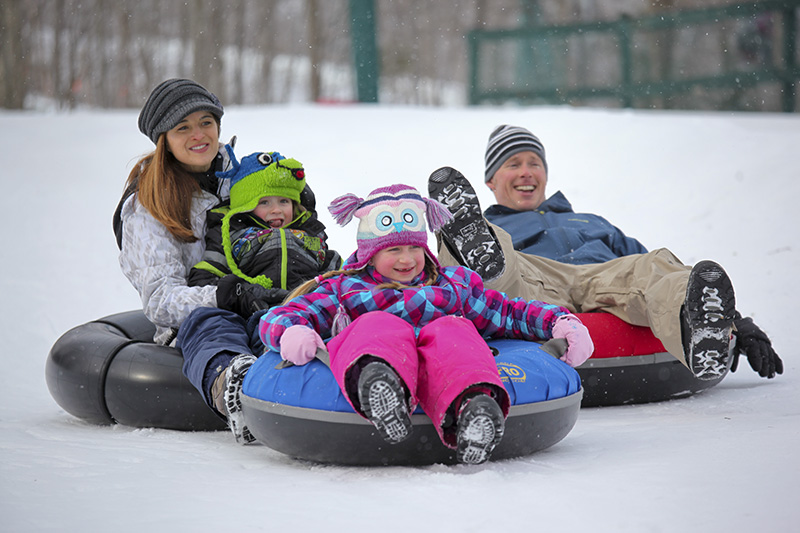 Live out your Frozen dreams by visiting the famous Ice Castle in Lincoln! Located at the Hobo Railroad, the Ice Castle is fun for all ages. Come explore the 25-foot tall ice fortress with tunnels, fountains, slides, towers, and tons of colorful lights. Whether you're looking for a romantic date spot or a place for the kids to burn off some energy, the Lincoln Ice Castle is a unique winter experience.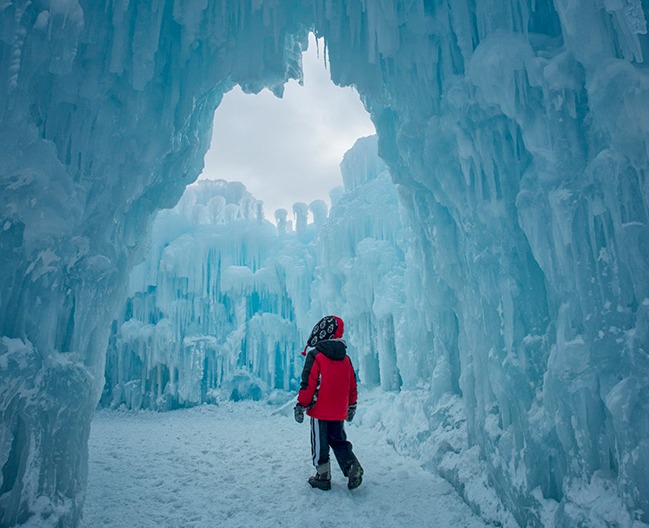 There are plenty of places to ice skate in the western White Mountains, but you don't have to go far to find the best one. It's in our own backyard! During the winter months, our lagoon pool turns into a one-of-a-kind ice skating rink complete with a fire pit to help keep you warm. We also have a calendar full of fun events, like adult skating camp, ice shows, and Wine & Ice.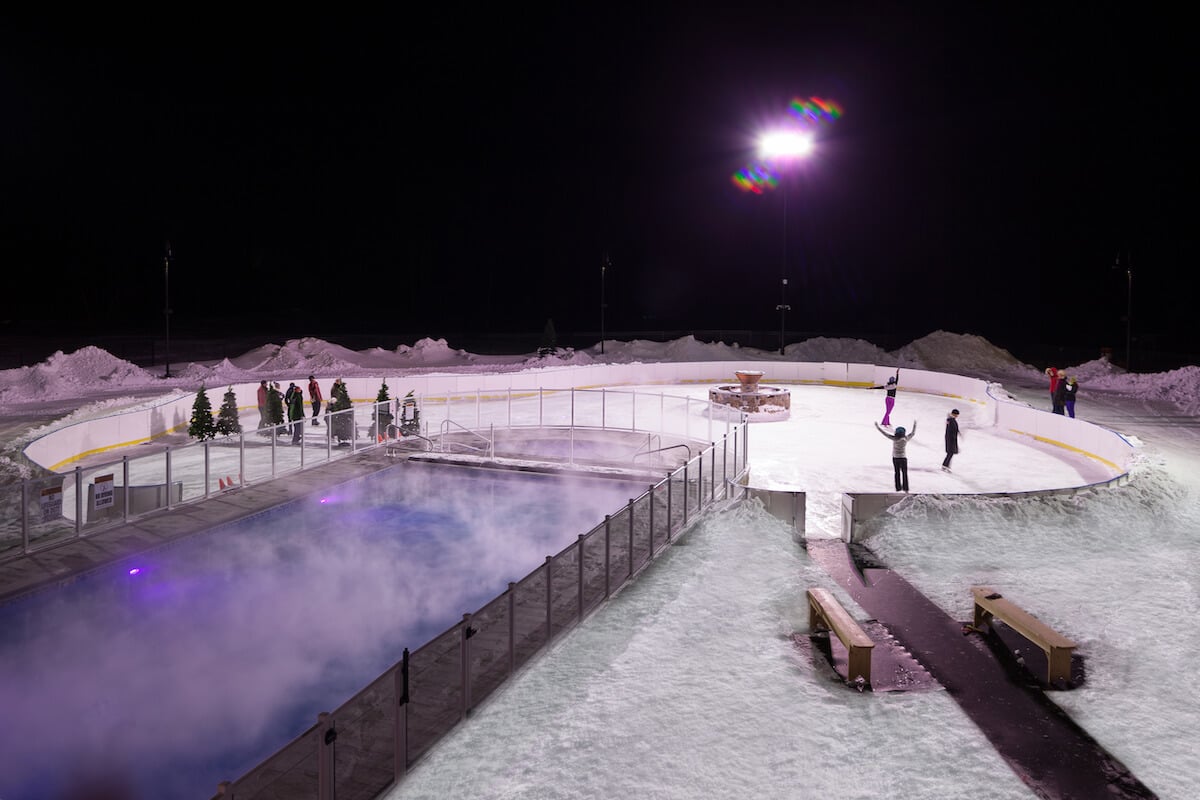 Snowmobiling
New Hampshire's North Country is one of New England's premier snowmobiling destinations. During the snowy winter months, the White Mountain National Forest is open to snowmobilers. The miles of forested trails are maintained beautifully by the many snowmobile clubs in the area. If you have your own snowmobiles, the Ammonoosuc Rail Trail is a 19-mile trail that runs from Littleton to Woodsville. If you don't have a snowmobile, you can book a guided tour with Sledventures Snowmobile Rentals in Lincoln. The 1.5-hour White Mountain Adventure Tour is perfect for beginners to advanced riders who'd like to experience incredible views of Franconia Notch and the woods.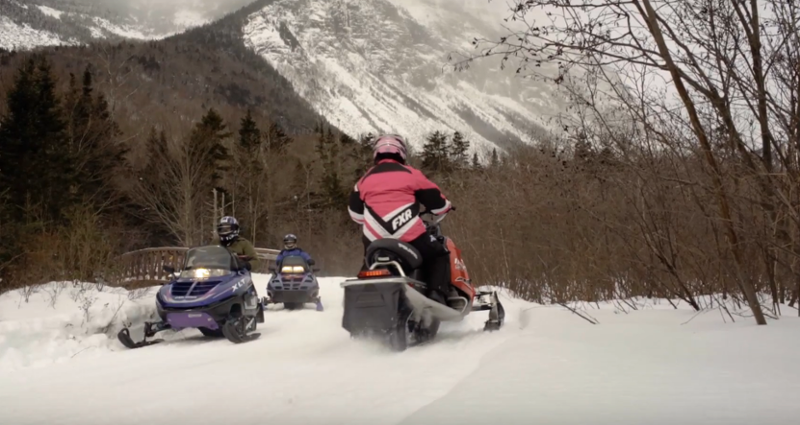 Snowshoeing
Strap on your snowshoes and head out our back door for a walk through the woods, or head to the backcountry for a true winter adventure. The nearby Lincoln Woods Trail is a 2.9-mile wide snowshoe trail that winds along the Pemigewasset River. For a heart pumping, challenging route, hike the moderate 3.1-mile Lonesome Lake Trail with incredible views of Franconia Ridge.
The Loon Mountain Adventure Center offers some excellent snowshoeing tours for all ages and abilities. Choose from a more challenging summit guided snowshoe tour or a more leisurely base area guided tour. If you'd rather explore on your own two feet, you can hit the trails at the Adventure Center or head to the woods. Alpine Adventures offers a fun backcountry snowshoe tour if you prefer a guided stroll through the woods.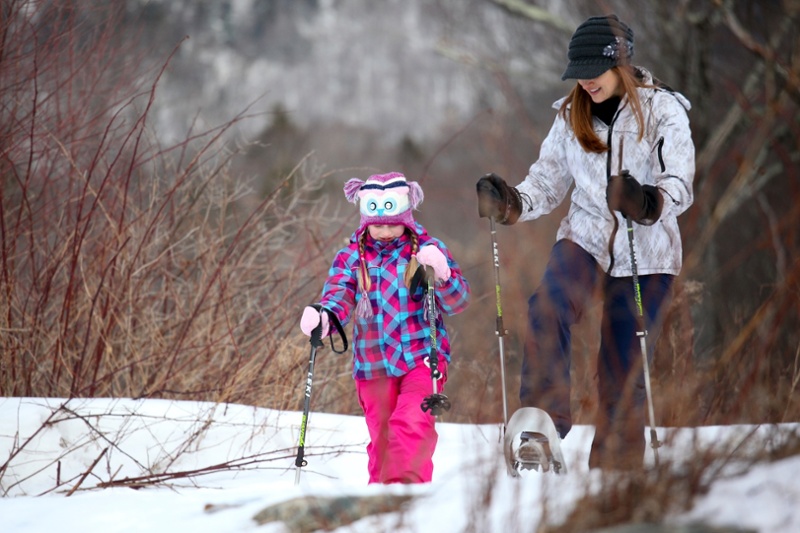 Cross Country Skiing
The East Ridge Trail System at the Loon Mountain Adventure Center has over 20 km of groomed cross-country skiing trails for beginners, intermediates, and advanced skiers. Bring your own or rent a pair and enjoy the quiet solitude of the Pemigewasset River and old logging roads. Serious cross-country skiers will love the 65 km of trails at the Franconia Village X-C Ski Center in Franconia. Their center offers full rentals and lessons if you want to perfect your skills.
Fly high through the snowcapped trees with Alpine Adventures. Who said ziplining was a summer activity? During the winter months, you can enjoy one of Alpine Adventure's three zipline courses. After ziplining through the air, enjoy a warm cup of hot chocolate by the wood-burning fireplace in their treehouse. Take our free shuttle to Loon Mountain and take a spin on the Loon Mountain Adventure Center zipline. Feel the rush as you zip 700 feet across the frozen Pemigewasset River.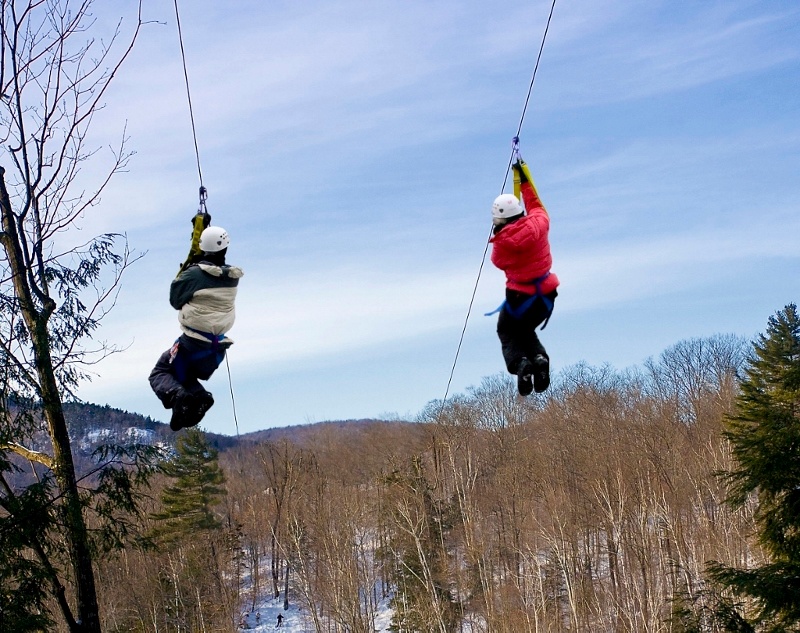 Mt. Washington is one beautiful and terrifying mountain. Notorious for having crazy weather, it is the crown jewel of the White Mountains. While some adventurous people will hike Mt. Washington during the winter months, we recommend exploring the beauty of the mountain by a SnowCoach Tour. Climb 4.5 miles up the mountain in a specially designed vehicle and enjoy the panoramic views above tree line.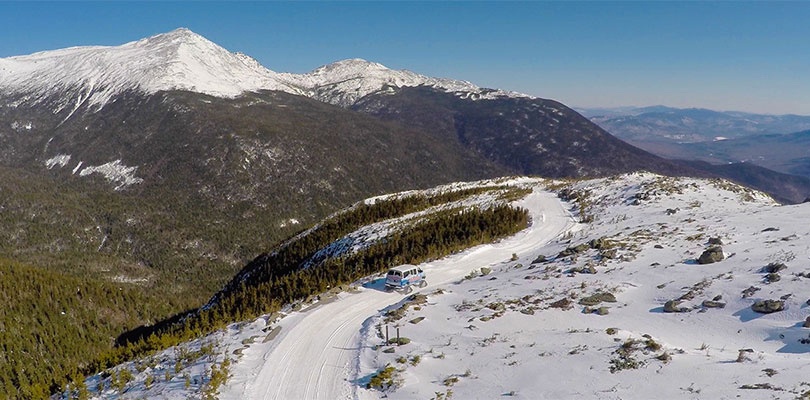 For an epic off-road experience in the backcountry of the White Mountains, join one of Alpine Adventure's Off-Road Adventure Tours. You'll hop into a Swiss army transport vehicle called Pinzgauers and explore over 300 acres of private land offering panoramic views of the White Mountains. It's like riding a slow speed rollercoaster up Barron Mountain!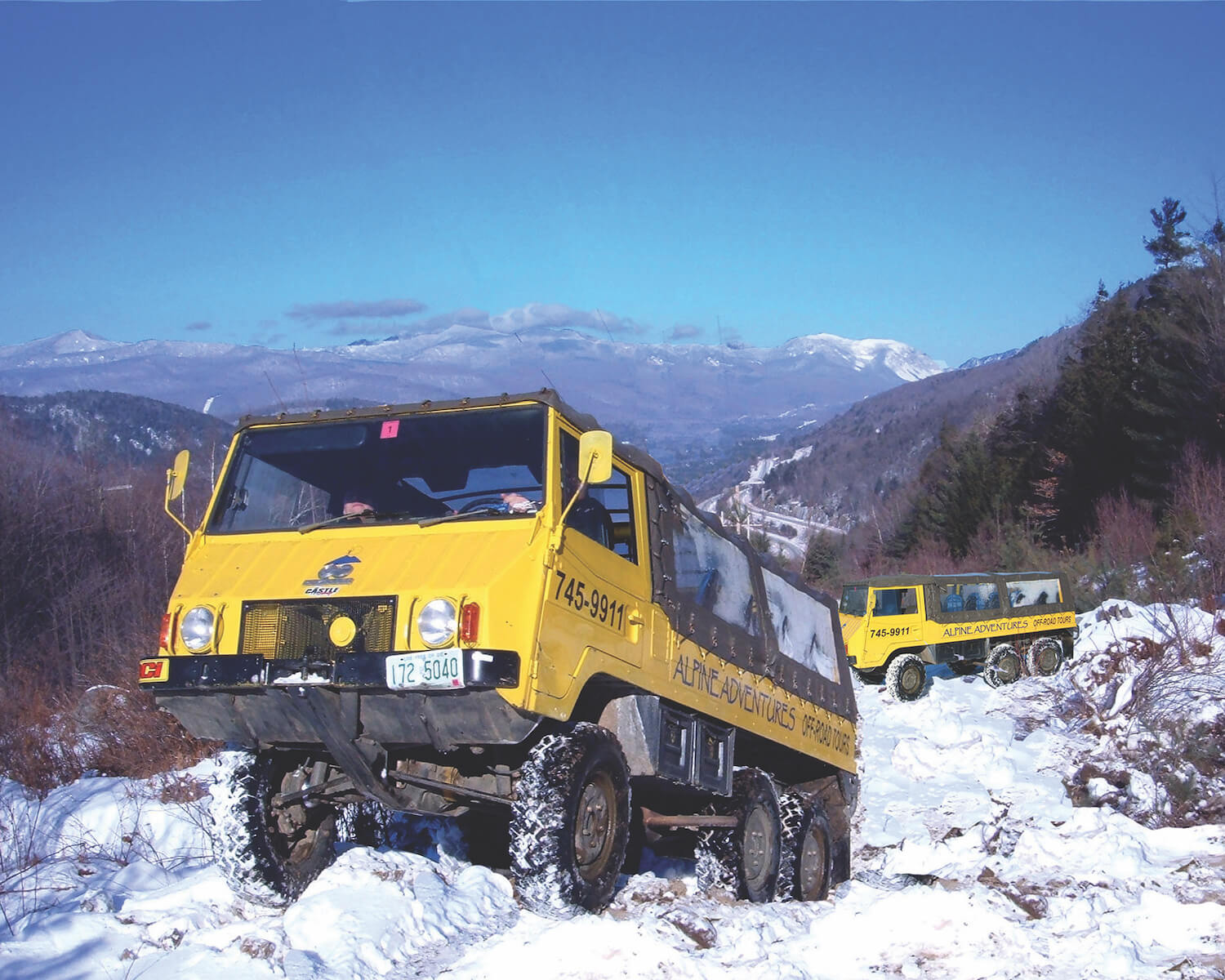 With an abundance of frozen waterfalls and granite rocks, the White Mountains is a popular destination for ice climbing. Both International Mountain Climbing School and EMS in North Conway offer guided ice climbing lessons and tours. Strap on a pair of crampons and swing your ice pick into Cathedral and Frankenstein Cliffs. For experienced ice climbers with their own gear, Lincoln's Throat is a popular climb on the west side of Mt. Lincoln.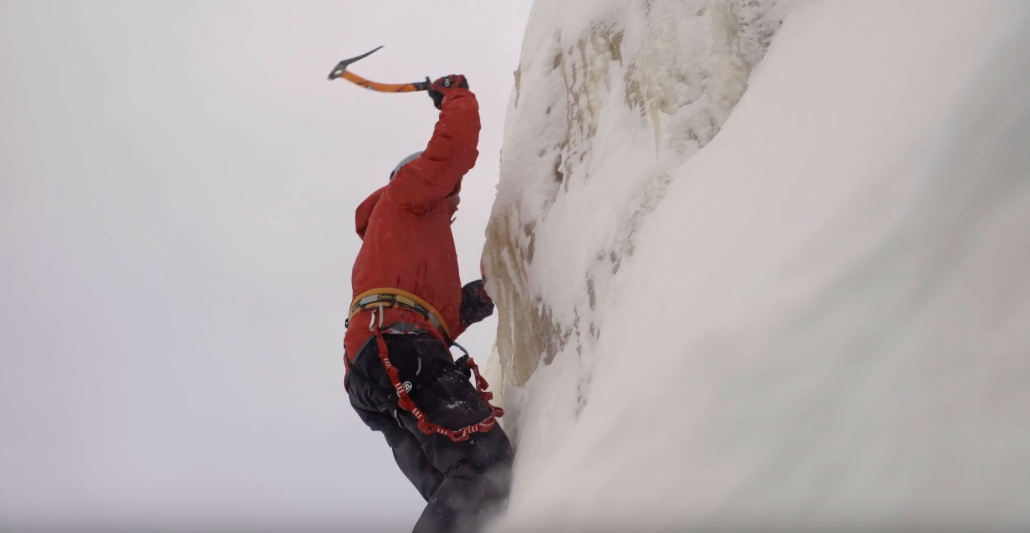 Hiking in the White Mountains during the winter months is a surreal experience that is not to be missed. The Lincoln Woods Trail is always a local favorite. Strap on a pair of snowshoes or just your hiking boots and enjoy the quiet solitude of the forest. If you're feeling adventurous, try your luck on one of the 48 4,000-footers. If you're looking to earn serious bragging rights, make your attempt at Mount Washington in the winter. EMS offers multiple guided hikes throughout the winter months.
Remember, Winter hiking can be dangerous, so be prepared, watch the weather carefully, and always let someone know where you're going and when to expect you back.