If you're after a wild winter adventure, then you've come to the right place! The White Mountains of New Hampshire is home to 48 4,000+ feet mountains and a countless other number of smaller peaks, including the infamous Mount Washington. The 6,288-foot peak still holds the record for the fastest non-cyclone wind gust ever recorded on Earth at a whopping 231 miles per hour on April 12, 1934. With an abundance of mountains, trails, and ski mountains, you'll be blown away with all the incredible winter activities the White Mountains has to offer guests.
---
Challenge your snowmobiling skills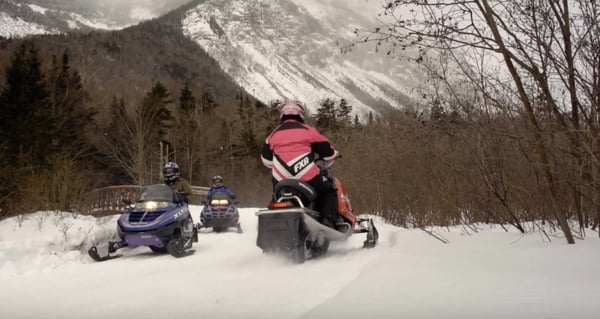 New Hampshire's North Country is one of New England's premier snowmobiling destinations. During the snowy winter months, the White Mountain National Forest is open to snowmobilers. The miles of forested trails are maintained beautifully by the many snowmobile clubs in the area. If you have your own snowmobiles, the Ammonoosuc Rail Trail is a 19-mile trail that runs from Littleton to Woodsville. If you don't have a snowmobile, you can book a guided tour with Sledventures Snowmobile Rentals in Lincoln. The 1.5-hour White Mountain Adventure Tour is perfect for beginners to advanced riders who'd like to experience incredible views of Franconia Notch and the woods.
zipline through the sky at amazing heights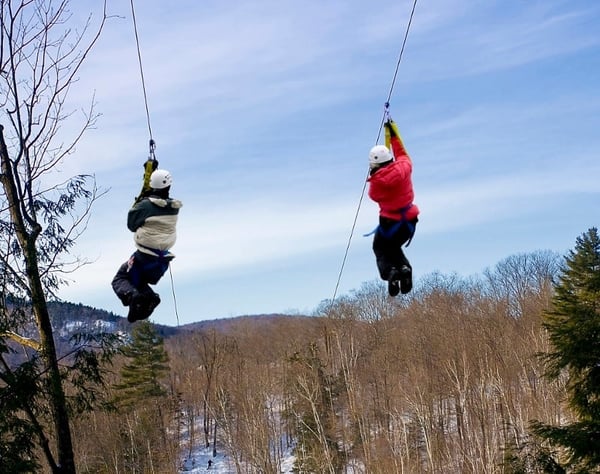 Fly high through the snowcapped trees with Alpine Adventures. Who said ziplining was a summer activity? During the winter months, you can enjoy one of Alpine Adventure's three zipline courses on Barren Mountain. After ziplining through the air, enjoy a warm cup of hot chocolate by the wood-burning fireplace in their treehouse. Take our free shuttle to Loon Mountain and take a spin on the Loon Mountain Adventure Center zipline. Feel the rush as you zip 700 feet across the frozen Pemigewasset River.
ice Climb your way to the top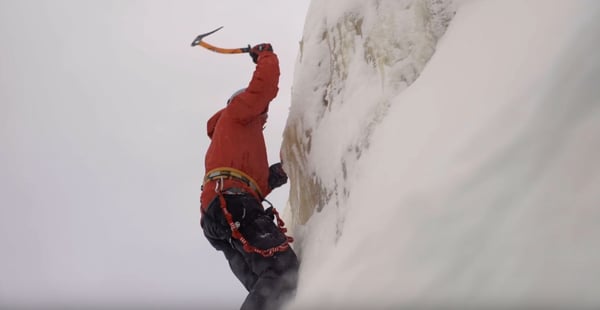 With an abundance of frozen waterfalls and granite rocks, the White Mountains is a popular destination for ice climbing. Both International Mountain Climbing School and EMS in North Conway offer guided ice climbing lessons and tours. Strap on a pair of crampons and swing your ice pick into Cathedral and Frankenstein Cliffs. For experienced ice climbers with their own gear, Lincoln's Throat is a popular climb on the west side of Mt. Lincoln.
winter hike at higher elevations
Hiking in the White Mountains during the winter months is a surreal experience that is not to be messed. Whether you stay beneath the pine trees or head above tree line, winter hiking is a great activity to burn some serious calories and enjoy a different view of the White Mountains. The Lincoln Woods Trail is always a local favorite. Strap on a pair of snowshoes or just your hiking boots and enjoy the quiet solitude of the forest. If you're feeling adventurous, try your luck on one of the 48 4,000-footers. If you're looking to earn serious bragging rights, make your attempt at Mount Washington in the winter. EMS offers multiple guided hikes throughout the winter months. Winter hiking can be dangerous, so remember to be prepared, watch the weather carefully, and always let someone know where you're going and when to expect you back.
Ski and Snowboard the Glades & Black Diamonds


With Loon Mountain and Cannon Mountain just next door, you can ski or snowboard to your heart's content. Covering three mountain peaks, Loon Mountain offers 370 skiable acres. Standing at 2,100 feet, Loon is both beginner and expert skier friendly and is a true family mountain. Standing at 4,080 feet, Cannon Mountain is New Hampshire's highest ski mountain. With 285 skiable acres across Cannon and Mitterskill, Cannon Mountain is a local favorite. Take a ride on the historic Tram and enjoy one of the many groomed trails or treelined glades.
Pack your adventure gear and head to the White Mountains for a true adrenaline rush this winter!