COVID 19 Update:
Open daily from 9am – 10pm. We ask that you follow social distancing while enjoying the pools and hot tubs.
PLEASE NOTE:
THE UPPER DECK POOL & OUTDOOR HOT TUB ARE CURRENTLY CLOSED UNTIL SUNDAY, 6/27 FOR MAINTENANCE.
THE LAGOON POOL & INDOOR HOT TUB ARE AVAILABLE FOR YOUR ENJOYMENT DURING THIS TIME. OUR APOLOGIES FOR ANY INCONVENIENCE.
RiverWalk Resort is the definition of luxury in the White Mountains. With Loon Mountain overlooking the clean blue water of the two swimming pools and hot tubs, RiverWalk Resort is the place to relax and cool off during the dog days of summer. But for the days when the mercury is in the single digitals, the pools are heated too!
For warm weather family fun, the large outer lagoon pool has a nice slope from the far end in toward the center where it gets to be 5 feet deep. The shallow end is where you'll feel comfortable letting your toddler splash around. Located in the heart of the pool, our cauldron fountain fires up at night as waterspouts spray out in all directions. In the winter, check out what we do to make this pool into a state-of-the-art skating rink!
On those cold winter days, you don't even need to step outside to hop in the pool. The upper deck pool actually starts inside and then expands outside. The water is heated to the perfect temperature year-round so that you are always comfortable, regardless of the weather. Just walk down the steps into the heated pool inside, sneak through the faux wall, and outside without the water ever changing temperature.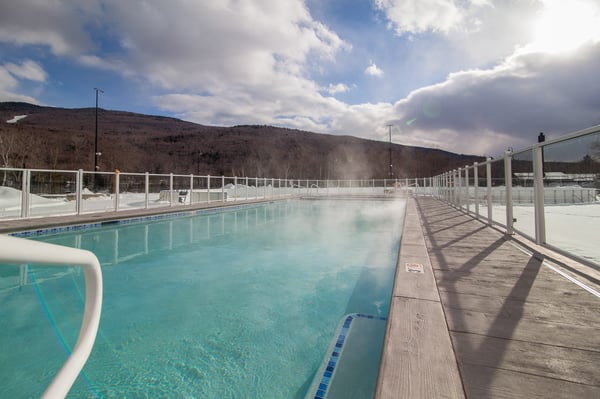 In case you feel the need to get outside (to make your way to the outdoor hot tub we hope!), the walkway around the upper deck pool is also heated so that your toes can stay comfy. The outdoor crescent shaped hot tub can soothe 12 people at a time with the jets taking away most of the pressures of your adventurous day.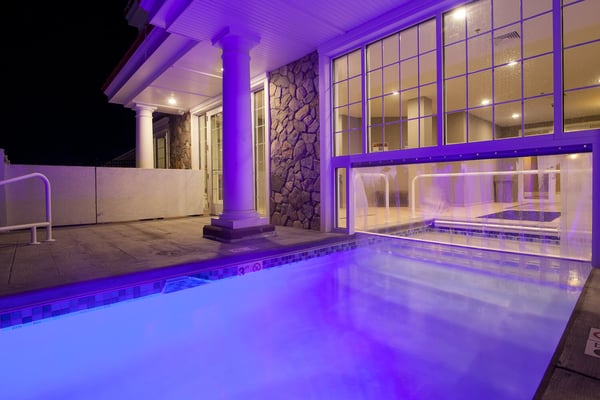 Because one hot tub just isn't enough, we have an indoor hot tub for your enjoyment. The large, deep tub is oh-so relaxing with an amazing view of the mountains through the floor to ceiling glass windows.