Update 3/16/20:
Seven Birches Winery is Closed until April 6, 2020.
Nothing matters more to us than the safety of our staff and our customers. For that reason, we have decided to follow the guidance issued by the CDC and the NH Governor's office to suspend operations for a 3 week period beginning Monday, March 16, 2020. Our plans are to re-evaluate the situation on April 5th and make a weekly determination as to the safety of reopening.
Our thoughts and prayers go out to everyone already affected and we hope that you can understand our need to make this difficult decision.
---
Seven Birches Winery produces wines from classic European grape varietals such as Cabernet Sauvignon and Chardonnay as well as locally sourced fruits like blueberry and apples. From red to white and everything in between, there are dozens of different wines to sample and to purchase right in the wine shop at RiverWalk. The grapes are from around the world, but the wine is pure New Hampshire at its best. And soon, Seven Birches will be able harvest some New Hampshire grapes grown right on the RiverWalk's back lawn.
The Seven Birches RiverWalk Resort tasting room is open daily in the afternoons and evenings for wine sampling while the new Atrium Wine Bar at the Lincoln Village Shops is only open on the weekends. Taste a specific wine you are interested in or fancy a flight of your choice of five wines that pique your interest. With the White Mountains and the Pemigewasset River as your backdrop, an afternoon of wine tasting and casual, fun conversation with family and friends is a special occasion. Buy a bottle at the end to enjoy at a later day.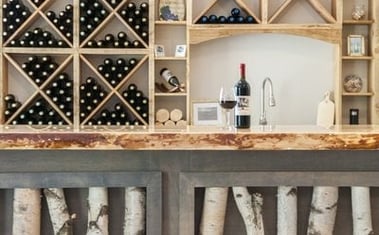 Are you a total oenophile? Join the Seven Birches Wine Club! With the wine club, you get special privileges in the winery and special deals on wines you like, delivered to your room or mailed to your home. The Seven Birches Barrel Club is the ultimate experience in winemaking and wine ownership giving you the opportunity to custom create your own unique family vintage.
Have you always wanted to learn how wine is made? Now is your chance at Seven Birches. Sign up for the "Meet the Winemakers" tour to learn the ins and outs of winemaking and get a taste straight from the barrel. Tours are available on Wednesdays and Saturdays.
Sip, play, and relax at the RiverWalk Resort. We have it all, including an award-winning in-house winery!