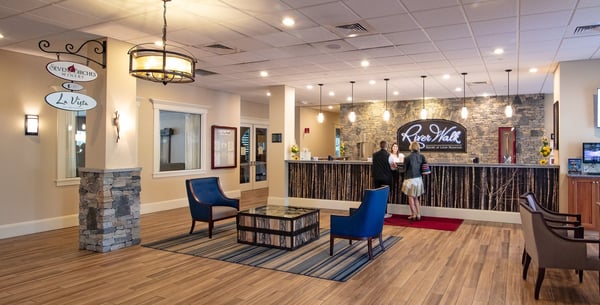 After you check in, drop your bags in your suite and head to the RiverWalk Owners' Club, an exclusive gathering place where friends and family create lasting memories of their extraordinary vacations. The RiverWalk Resort Owners' Club room is a fantastic space to gather with friends and family, play games, laugh out loud, enjoy the panoramic beauty of the White Mountains, or to simply catch the big game on the widescreen plasma TV.
Built just for RiverWalk owners, the room was specially designed as a space where owners at the resort would retreat for a hot chocolate in front of the fireplace after a day on the slopes; a place to meet and 'chill' with other owners who quickly become family on a hot summer day; and a spot for owners to extend their own spacious suites when they have more friends and family come for a visit.
The RiverWalk Owners' Club is equipped with a 70" curved plasma TV, which is outstanding for watching a thrilling movie, Paw Patrol for the millionth time with the kiddos, or the championship Red Sox game. Relax in comfortable lounge chairs each with their own drink rests and mini tables. All you need is snacks and a cold one!
Challenge all your new friends to a game of pool on the grand billiard table. If you need a ringer, just stop into the sales office, there's a few OK players in there. Winner buys drinks, right? You're always welcomed to bring cards or board games down to continue the impromptu game night.
The room is cleverly laid out so the guys can watch the big game while the kids play pool, and everyone can enjoy snacks and a little wine on the private owners' balcony overlooking South Peak and the Pemigewasset River.
Interested in reserving the room for an owner's function? Just let us know! We'll see you inside.