From Summer Oasis to Winter Wonderland
During the cold winter months, our outdoor lagoon swimming pool magically transforms into a world-class ice skating rink for our owners and guests to enjoy. Where else in the White Mountains can you ski, skate, swim, sip, savor and sleep?
Please note the Rink at RiverWalk is closed for the season.
A one of a kind transformation
Transformed from a 167,000 gallon lagoon swimming pool in the summer, this ice skating rink at RiverWalk Resort is the first of its kind in the country. Amazingly, under the surface of the ice is a complex system of tubes that carry super-cooled glycol to help ensure the most extraordinary ice skating experience for our guests.

But, that's just the engineering. What we care more about are the smiles that this blend of art and science brings. Adults and children alike are re-discovering their love for all things frozen.

Guests of RiverWalk can bring their own ice skates or rent onsite and head out the backdoor to bring their skating fantasies to life. Swirling around the fire cauldron alongside other guests swimming in the outdoor pool is something you cannot experience anywhere else.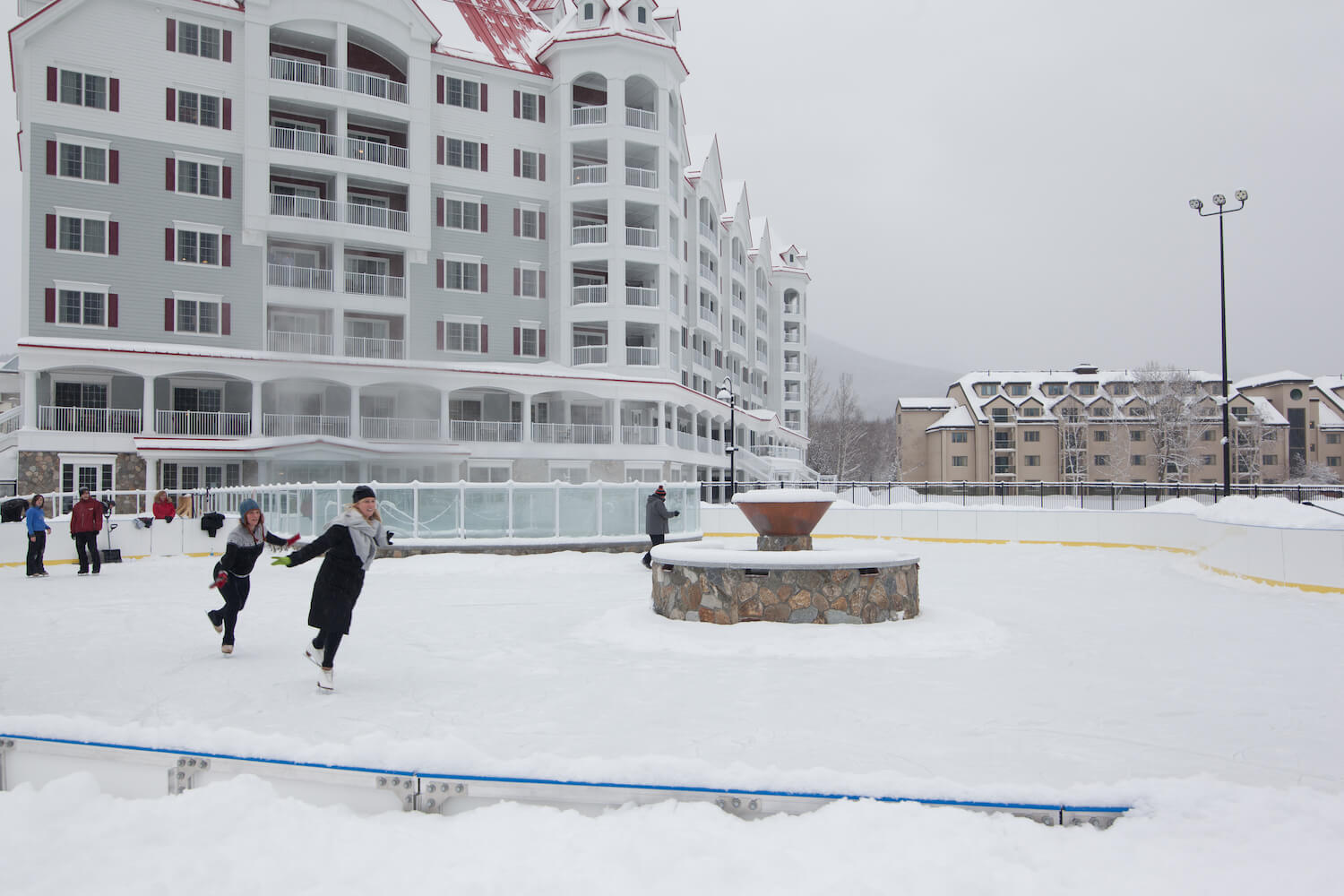 Fire pits to stay toasty!
We invite guests to enjoy our poolside fire pits. Exchange woodland tales and camp songs below a starry night sky. Can you spot the Big Dipper?
Let the fire keep you toasty while watching one of our extraordinary ice skating shows featuring professional skaters from all over the world. In addition to the fire pits, a fire cauldron sits in the center of the ice skating rink for passing skaters to enjoy.
Just let the front desk know you would like have a fire started and a staff member will help you!