1/6/22 Update:
The Rink at RiverWalk will unfortunately be closed this winter season due to mechanical issues with the chilling system resulting in unsafe ice conditions. As phase two construction plans require relocation of this system early next spring, we have decided it is in the best interest of RiverWalk's expansion plan to postpone these significant repairs to ensure the chiller system can be relocated as needed. Our team has been working diligently to get the rink ready, however due to inconsistent weather temperatures and the size of the rink, we strongly feel it is not in the best interest for the safety of our guests, owners or staff to operate the rink this way. We sincerely apologize for not being able to provide the skating experience this winter and for any inconvenience it may cause. The outdoor fire pits, heated upper deck pool and hot tub are available all winter long for your enjoyment.
If you and your family are still looking to enjoy some ice skating, there are other rinks in the region with public skating times:
Plymouth State University Ice Arena: 22.0 miles; 23 minute drive
Waterville Valley Ice Arena: 26.3 miles; 32 minute drive
Ice Skating in the White Mountains Blog
---
Admission:
We offer free rink admission to RiverWalk owners and rental guests. Rental skates are available for $10, please note we have limited sizes.
Skating is by reservation only. Reservations can be made in person at the front desk upon check-in. To ensure proper social distancing, attendance will be limited to 30 people per hour. The rink is available to the public only for special events.
Hours of Operation:
Thursday & Friday - 6pm-9pm
Saturday & Sunday - 1pm-9pm
Open daily from 1pm-9pm during Massachusett's February school vacation week (2/20/22 - 2/26/22).
Open nightly from 6pm-9pm during New Hampshire's February school vacation week (2/28/22 - 3/3/22).
Rink is scheduled to be open through Sunday, March 27th, pending weather conditions.
About the Rink:
Transformed from a 167,000 gallon lagoon swimming pool in the summer, this ice skating rink at RiverWalk Resort is the first of its kind in the country. Amazingly, under the surface of the ice is a complex system of tubes that carry super-cooled glycol to help ensure the most extraordinary ice skating experience for our guests.
But, that's just the engineering. What we care more about are the smiles that this blend of art and science brings. Adults and children alike are re-discovering their love for all things frozen.
Guests of RiverWalk can bring their own ice skates or rent onsite and head out the backdoor to bring their skating fantasies to life. Swirling around the fire cauldron alongside other guests swimming in the outdoor pool is something you cannot experience anywhere else.
Learn about some of the famous skaters that have enjoyed our rink over the years.
---
FIRE PITS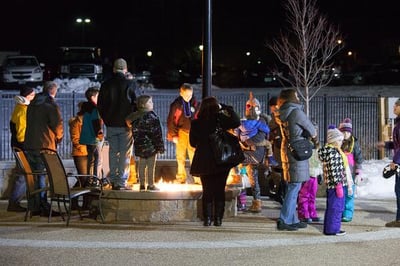 ---
About:
We invite guests to enjoy our poolside fire pits. Exchange woodland tales and camp songs below a starry night sky. Can you spot the Big Dipper?
Let the fire keep you toasty while watching one of our extraordinary ice skating shows featuring professional skaters from all over the world. In addition to the fire pits, a fire cauldron sits in the center of the ice skating rink for passing skaters to enjoy.
Just let the front desk know you would like have a fire started and a staff member will help you!